11 Best Memory Foam Pillows For Comfortable Sleep In 2021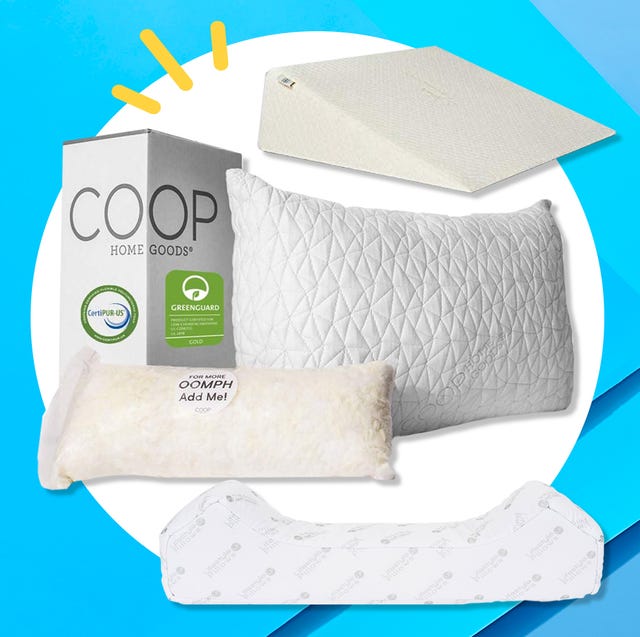 Courtesy
There's nothing like the feeling of your head hitting your pillow at the end of a long day. But, it's not always as simple as ordering the first pillow you see on Amazon. Picking the right pillow for your unique needs and body type is important. Think about it—you're glued to this pillow for hours every single night. No matter your sleeping style, memory foam pillows are often the preferred, premium choice of pillow for the way they maintain their shape, provide upper body support, and relieve pain.
I never understood the importance of picking the right pillow until a good friend of mine told me she swore by a memory foam pillow for relieving neck pain. What I found when I started going on my own pillow search is that there are even more memory foam options out there that I could have imagined, whether you're a skincare enthusiast interested in maximizing your beauty sleep or looking for something to ease your persistent neck and body pain.
The point is that the right pillow for your body can change the way you sleep forever, and the multitude of options out there can make the search even more difficult—which is why the list below narrows down the best memory foam pillows out there.
Below are the 11 best memory foam pillows for the most comfortable sleep of your life. You'll find options to treat everything from acid reflux to neck pain and sweatiness—there's even a pillow that mimics cuddling.
Advertisement – Continue Reading Below
1
Best Overall
Memory Foam Pillow
saatva
saatva.com
This is the ultimate pillow for every sleeping position you can imagine (back, side, stomach, or all of the above). 
If you're having trouble weighing all the options out there and don't have any specific pain points, you can't go wrong with this one.
2
Best Custom Pillow
Shredded Memory Foam Pillow
Coop Home Goods
amazon.com
This is one of the most popular memory foam pillows on Amazon with more than 30,000 five-star reviews. You can customize this easily simply by adding or removing some of the shredded memory foam to adjust to your sleeping position. With this one, your comfort is in your hands—literally.
3
Best For Acid Reflux And Snoring
Therapeutic Wedge Pillow
Brentwood Home
amazon.com
Encased in soft bamboo, this versatile wedge pillow keeps your head elevated to prevent acid reflux. Reviewers say it even helps with snoring, too.
Not a snorer? You can also use this to prop yourself up with a good book.
4
Best For Hot Sleepers
Ventilated Gel Memory Foam Pillow
WEEKENDER
amazon.com
For the times leaving your doors and windows open might irritate your partner, this cooling pillow is the perfect solution. It's built with temperature-control gel technology made specifically for hot and sweaty sleepers.
5
Best For Your Skincare Routine
enVy Rx + Bamboo Pillow
enVy
envypillow.com
This OFF-your-face ergonomic design is uniquely designed to reduce face-to-pillow contact. What better way to maximize the efficacy of that eight-step skincare routine you've been perfecting?
6
Best For Your Haircare Routine
Hair Pillow
Lifestyle Pillows
lifestylepillows.com
This hair pillow was specifically developed to inclusively support every hair type while you sleep. 
This is a must-have for the person who needs to preserve the hours of time and money spent on their hair—it makes a great gift for that reason, too.
7
Best For Side Sleepers
Foam Pillow for Side Sleepers
Casper
casper.com
Casper's cult-favorite memory foam pillow consists of three foam layers to support alignment and keep you cool throughout the night. People can't stop talking about this pillow.
8
Best For Neck And Shoulder Pain
Cervical Memory Foam Pillow
Mkicesky
amazon.com
If you experience upper body discomfort, reviewers rave about the ways in which this unique design has helped to reduce neck and shoulder pain.  
9
Best Travel Pillow
Ethnic Travel Pillow
ZazzyKreationsByKZ
ZazzyKreationsByRZ
Handmade in Florida, this African-themed travel pillow is the perfect accessory to have wrapped around your neck to feel as comfortable as possible on your next long road trip or red eye. 
10
Best For Stomach Sleepers
Super Slim Gel Memory Foam Pillow
Bluewave Bedding
amazon.com
One of the thinnest pillows out there, this is ideal for stomach sleepers who prefer a mostly flat surface. If you want something with a bit more thickness, you'll love trying the Full Pillow.
11
Best Memory For Cuddling
Couple Arm Hug Pillow
shop
thewhitewillow.in
Given its unconventional shape, this is perfect for cuddlers who struggle to find a comfortable sleeping position. If you're the spooner in the relationship, the pillow's ergonomic design takes the weight off your arm while sleeping on your side.
Your (and your partner's) arm will thank you later. 
This content is created and maintained by a third party, and imported onto this page to help users provide their email addresses. You may be able to find more information about this and similar content at piano.io
Advertisement – Continue Reading Below