Arts NC State's annual student art sale grows, gains flexibility with online shift | Culture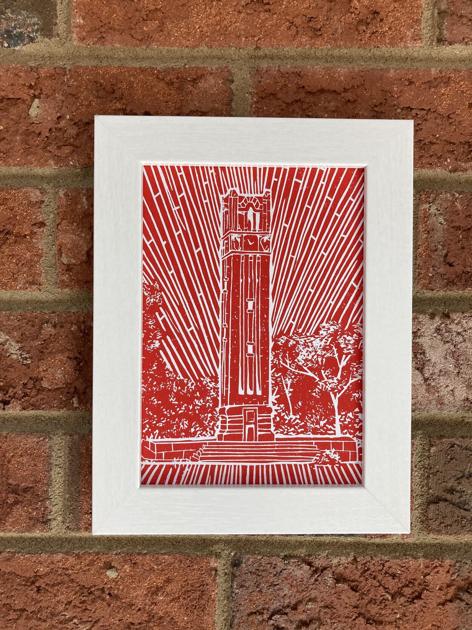 Initially originating as a private sale for NC State's art collection, the annual Student Art Sale has assisted students in selling their artwork to both NC State and outside buyers for the past seven years. Spanning a wide range of categories, participants in the annual Student Art Sale have contributed to NC State's private collection of artwork since 2001. 
According to Amy Sawyers-Williams, director of the office of Arts NC State's outreach and engagement, the program's primary focus is recognizing student talent regardless of major or background, in addition to providing students with a platform to showcase their work, goals that align closely with Arts NC State's own motto, "the arts are for everyone."
Participants in the Student Art Sale have the opportunity to win a $500 cash prize, a prominent display in Talley Student Union and will be honored in an annual ceremony as part of the Visual Art Awards, the continuation of a generous endowment made in 2017. 
The process behind selecting winners lies mainly in the hands of a judge, with additional input from a panel of Arts NC State employees. This year's judge was Jennifer Dasal, curator of modern and contemporary art at the NC Museum of Art. 
Judges approach submissions from a subjective perspective, but are also encouraged to think about the strengths and weaknesses of the piece, the skill set shown, and even the impact or wow factor of the artwork. 
In a statement to Arts NC State, Dasal said that she considered elements such as technical ability, wittiness and sense of humor, the thoughtfulness with which they approached the subject, as well as sensitivity and material handling.
The Student Art Sale is usually held in person in Talley Student Union, but due to the COVID-19 pandemic, was held entirely online. Students this year were encouraged to sell their pieces through online marketplaces such as, like Etsy, ArtFire and eBay. 
Despite unprecedented circumstances, submissions rose significantly. 
"This year, we had almost 400 pieces in the sale, which is almost double last year. I think students were more organized this year," Sawyers-Williams said. "They had a whole year to prepare for a virtual sale.  I did an artist panel with students who had sold their work last year so that they could answer questions like, 'what is it like to set up an Etsy shop' and 'how do you mail your artwork?' because often students haven't mailed them before, or 'how do taxes work?' The cool thing about this art program shifting virtually is that students learn the business of selling their art in a way that they didn't know before."
The success of this year's virtual sale has the potential to expand the program even further, prompting growth and accessibility for participants and buyers outside of NC State. 
"We might be growing the sale into a hybrid of an in-person and virtual event, or if it stays totally virtual, then I think we would be interested in getting more artists and buyers to spread the word across the state that the sale is going on," Sawyers-Williams said. "I think in the future, we just want to be open and flexible to the students' needs."
Other expansions include more professional development opportunities for students, offering workshops and events led by both professional and student artists that help address arts entrepreneurship, as well as collaborations with other departments within Arts NC State.
Check out the ongoing Student Art Sale here, or follow Arts NC State's Instagram or Facebook.