Coronavirus live: every UK adult 'to be offered first vaccine by September'; Sydney struggles to quash cluster | World news
There were no tests at arrivals on Saturday morning at Heathrow Airport's Terminal 2 – though that changes on Monday as stricter measures finally come into force.
Instead, little dribbles of bleary-eyed passengers from places as far afield as Mumbai, Frankfurt and Kigali slipped quietly through the somnambulant arrivals lounge and out into the soggy grey vista of England in January.
"Just like normal," said Natalie Fernandes, flying in from India. "No problems at all."
Serg Tswlnitsky, arriving from Warsaw, echoed much the same sentiment. "No tests or anything," he said from behind his mask, with what may or may not have been a satisfied smile.
Nor, said a number of passengers, were they given advice on self-isolation or anything to do with Covid. There was an inconspicuous board at the end of the arrivals walk addressed to those who have "just arrived in the UK". It advised people to stay indoors as much as possible and to stay alert.
But then there was also another board which announced that "One person only to meet arriving passengers", and almost everyone ignored that, with groups of twos and threes waiting to greet arriving family and friends.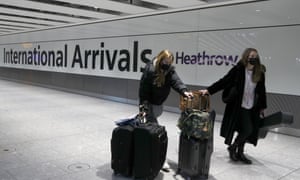 Milan fashion week is virtual this year, but the fashion giant Fendi has a six-minute menswear showstopper focusing on lockdown comfort.
The first outfit in Fendi's latest luxury menswear line-up was showcased on Saturday in a music video-style film streamed from a digital-only Milan fashion week.
It starred the padded olive silk inner lining of a coat – "the softest part", said Silvia Fendi – with the smart, structured top layer removed.
"This is therapeutic fashion," explained Fendi, the men's and accessories creative director of the brand founded by her grandparents 96 years ago, speaking via Zoom from her Milan studio. "It's impossible to talk about fashion and not to talk about what's happening in the world right now. It changes the clothes and it changes the way they are presented."
Every UK adult to be offered first dose of vaccine by September – minister
Coronavirus outbreaks have spread through US immigration detention centres, with at least 8,000 reported cases.
The impact has been devastating for people like Alvaro Hernandes, who saw his wife and recently born twin daughters for the last time through a video call on 5 January before he was deported from immigration detention in Kansas to Guatemala, after living in the US for 12 years.
Shortly after Hernandes and his wife brought their two newborn daughters from the hospital in June 2020, he was detained for being undocumented and handed over to immigration customs enforcement by a local sheriff after he called 911 when he was unable to get in contact with his wife for a brief period of time and wasn't aware there was a non-emergency number for the police.
Despite testimonials from family members, friends, his longtime boss and landlord, an immigration court in Kansas City, Missouri, ordered the deportation to proceed, citing a 2008 DUI conviction.
Due to the coronavirus pandemic, Hernandes's family has only been able to speak with him through expensive video calls and collect phone calls. While imprisoned, Hernandes also contracted coronavirus.