Coronavirus live news: Keir Starmer suggests he would back tougher measures; Japan's Covid second wave linked to rise in suicides | World news
China has pledged to donate half a million Covid-19 vaccine doses to the Philippines, according to officials in Manila.
President Rodrigo Duterte's administration is scrambling to lock in supplies of Covid-19 vaccines for the country's 110 million people, after being criticised for being too slow off the mark in the global race to procure the drugs, according to the French state-backed news agency AFP.
Among other deals, the Philippines has already agreed to buy 25 million doses of Chinese company Sinovac's Coronavac, despite the jab not having been approved by regulators in China.
It is not clear which vaccine China will donate, and whether the donation is part of that earlier deal; the Chinese embassy in Manila did not respond to AFP's request for comment.
China's foreign minister, Wang Yi, told his counterpart of the intended donation when he was in Manila on Saturday, the Philippines foreign ministry said.
As many as 5,000 health and social care staff were expected to take part in a mass coronavirus vaccination exercise today in Glasgow, Scotland.
The vaccination rollout for frontline healthcare workers was being carried out by NHS Greater Glasgow and Clyde at the Scottish Events Campus (SEC) building, that was converted for use as the emergency Louisa Jordan hospital during the pandemic.
Up to 500 doses of the Pfizer vaccine were due to be administered each hour from 8.45am to 7.30pm, according to PA Media.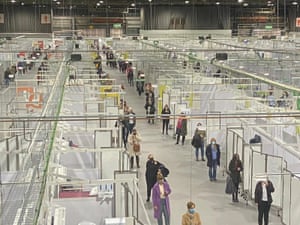 It comes as Scotland recorded 1,753 new cases of coronavirus in the past 24 hours and 78 deaths of people who tested positive for Covid-19 in the last 28 days. The number of new infections is 407 below the 2,160 announced on Friday but the number of people who have died is 17 higher.
As of Friday evening, 1,863 people were in hospital across the country with recently confirmed Covid-19, up by three. There were also 145 patients in intensive care, an increase of four.
Commenting on the vaccine rollout in Glasgow, the health secretary, Jeane Freeman, said:



To have 5,000 vaccinations taking place at NHS Louisa Jordan in a single day is testament to the hard work of all the staff at the hospital and I want to thank each and every one of them for their part in the rollout of the biggest vaccination programme ever undertaken in Scotland.

The vaccine offers us hope and as we vaccinate more and more people that hope becomes more real.

On its own, it won't be enough to win the race against this virus. Our testing programme is crucial. In addition, each one of us needs to follow the guidance, abide by the restrictions, wash our hands, wear face coverings and maintain a two-metre distance from others.

If we all play our part to suppress the prevalence of the virus, then vaccination can do the job we need it to do. Doing all of this will protect us, protect the NHS and save lives.
Updated

Another coronavirus variant is likely to be in the UK already despite the imposition of a travel ban from affected countries, a leading epidemiologist has said.
Prof John Edmunds, a member of the government's Scientific Advisory Group for Emergencies (Sage), said he would find it unusual if the second of two new variants from Brazil was not already present, although it has not yet been detected.
The first variant has a small number of mutations, and eight cases have been confirmed in the UK, but this is not the "variant of concern", leading virologist Prof Wendy Barclay said on Friday.
The second, which has been detected in Manaus and in travellers arriving in Japan, and is thought to be more infectious, has not been detected in the UK so far.
Updated

The children's television favourite Dr Ranj has joined a chorus of voices urging people in the UK to stay at home this weekend as the country's coronavirus transmission rate remain high.
In a short infographic produced with data from the government's New and Emerging Respiratory Virus Threats Advisory Group (Nervtag), the doctor – full name Dr Ranj Singh – appeals to viewers not to risk contracting or passing on the virus.
In a statement sent to the Guardian, he said:



Please don't risk contracting or passing on the virus and stay home as much as possible. I know it is tough and we are bored with the guidelines, but on behalf of my colleagues in the NHS, please stay at home this weekend. I can see it in my hospital, staff are struggling to cope with the amount of care needed to be given to more and more patients suffering from this terribly debilitating virus.

If you are going out to exercise, please do so as locally as possible, never exercise with more than one person from another household and always keep 2 metres distance. If you have to go to the shops, go alone, wear a face mask when indoors and washing your hands before and afterwards. We all need to be vigilant – meeting someone for a coffee could have a knock-on effect and help spread the virus.
Updated

The health system in Portugal is close to being overwhelmed, data from intensive care units show, as the country reported its biggest rise in coronavirus infections and deaths since the start of the pandemic on Saturday.
Portugal's hospitals, whichhad the lowest number of critical care beds per 100,000 inhabitants in Europe before the pandemic, can accommodate a maximum of 672 Covid-19 patients in ICUs, according to health ministry data.
There are currently 638 people in ICUs and the Portuguese Association of Hospital Administrators said the number of coronavirus patients needing hospitalisation was likely to increase dramatically over the next week.
On Saturday, a day after Portugal entered a new national lockdown, 10,947 new cases and 166 deaths were reported, bringing the total number of cases in a country of just over 10 million people to 539,416. The death toll stands at 8,709.
Updated

The Guardian's wealth correspondent, Rupert Neate, has written on the problem which is exercising the minds of the obscenely rich. How does one keep one's superyacht Covid-free?
It is a problem not many us have to consider: how to ensure your multimillion dollar superyacht remains a coronavirus-free zone despite taking on board crew from around the world.

But for the billionaire owners of floating luxury homes there is now a solution – a very expensive one, naturally. An Australian naval architecture firm is launching a new double-hulled support vessel, in which new crew and guests can isolate while they await coronavirus test results from onboard medical staff.

The catamaran, called ShadowCAT Haven and designed by Sydney-based firm Incat Crowther, is being promoted as offering rich owners a "protective layer between the shore and the vessel", allowing them to "maintain their bubble of protection" from the real world.

Dan Mace, technical manager at Incat Crowther, said the design of the catamaran allowed crew and goods to be "sanitised" before passing to the "clean side".

"With its certified helipad and generous guest lounge, the Haven allows guests transiting to the yacht to undergo testing and a brief but luxurious isolation period prior to transfer by tender to the mother vessel," Mace said.
Forthcoming mass rallies planned by Bolivia's Movement Towards Socialism (Mas) have been suspended to avoid the spread of Covid-19.
Updated

Denmark has registered 256 cases of infections with the new and more contagious coronavirus variant known as B117, health authorities said on Saturday, according to Reuters.
Between mid-November and 10 January, 256 Danes have been infected with the new variant, first seen in the UK, corresponding to 1.3% of all positive tests genetically analysed in that period, the State Serum Institute said in a report published on Saturday.
Updated

Air travel between Moscow and the capitals of Finland, Vietnam, India and Qatar, suspended since the early weeks of the coronavirus pandemic, will resume from 27 January, Russian authorities have said.
A statement shared after a meeting of the government's coronavirus HQ said that the four countries were seeing fewer than 40 new cases per fortnight per 100,000 people, according to Reuters.
Updated

Japan's Covid-19 second wave linked to rise in suicides
Suicides rose in Japan in the second wave of the country's Covid pandemic, particularly among women and children, despite having fallen in the first wave, a survey has found.
According to a Reuters wire report, the July to October suicide rate was up 16% on the same period a year earlier, according to a study by researchers at Hong Kong University and Tokyo Metropolitan Institute of Gerontology.
It was a stark reversal on a 14% drop in Japan's suicide rate in the February to June period. The decline was linked to government subsidies, reduced working hours and school closures, the study found.
But the prolonged pandemic has since badly affected industries where women predominate, increasing the burden on working mothers, while domestic violence increased, the report said.
The suicide rate for women rose 37%, about five times the increase among men, while the child suicide rate spiked 49% in the second wave, corresponding to the period after a nationwide school closure.
"Unlike normal economic circumstances, this pandemic disproportionately affects the psychological health of children, adolescents and females (especially housewives)," the authors wrote in the study published on Friday in the journal Nature Human Behaviour.
Taro Kono, administrative and regulatory reform minister, told Reuters on Thursday that while the government would consider extending the state of emergency, it "cannot kill the economy."



People worry about Covid-19. But a lot of people have also committed suicide because they have lost their jobs, they have lost their income and couldn't see the hope. We need to strike the balance between managing Covid-19 and managing the economy.
Updated

Emergency legislation is needed to protect doctors and nurses from "inappropriate" legal action over Covid treatment decisions made amid the pressures of the pandemic, health organisations have argued.
A coalition of health bodies has written to the government urging it to update the law to ensure medical workers do not feel "vulnerable to the risk of prosecution for unlawful killing" when treating coronavirus patients "in circumstances beyond their control".
Health groups argued that there is no legal protection for Covid-related issues such as when there are "surges in demand for resources that temporarily exceed supply", PA reports.
The letter, addressed to health secretary Matt Hancock, was co-ordinated by the Medical Protection Society, with the British Medical Association and the Doctors' Association UK among the signatories.
Related