Covid-19: France PM Castex announces tighter curfew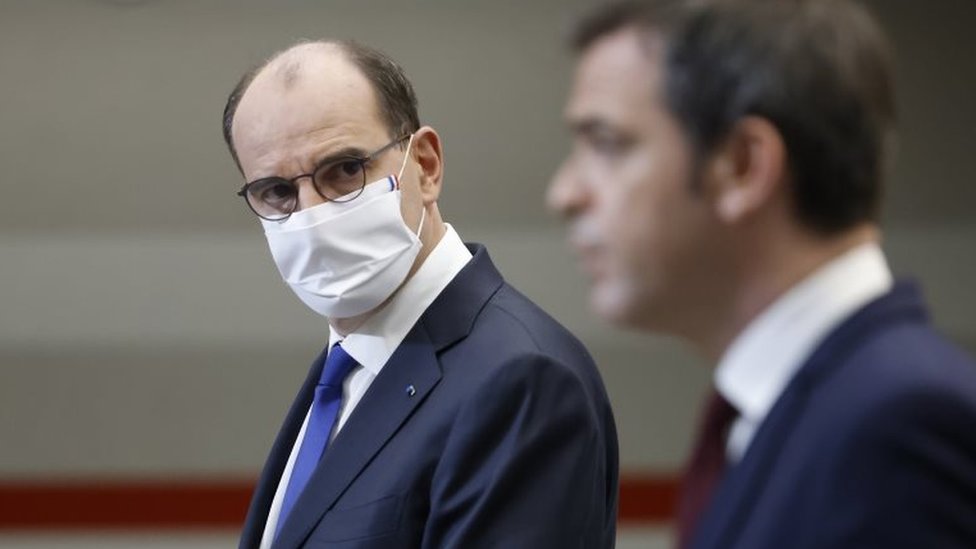 French Prime Minister Jean Castex has announced a new evening curfew will begin nationally across France starting at 18:00 (17:00 GMT) on Saturday.
The move is a tightening of a curfew already in place since December, which restricts movement from 20:00-06:00.
Announcing the measure on Thursday, Mr Castex described the country's situation as "worrying" with infections remaining at a "high plateau".
He also announced new restrictions for people arriving into the country.
France has so far recorded more than 69,000 coronavirus deaths – the seventh-highest death toll in the world.
How does the curfew work?
The new national curfew will stay in place for at least 15 days and means everyone must be at home, unless they are returning from school or work, by 18:00 every day.
All shops and businesses will have to close when the curfew begins, except for emergency services.
The tighter evening restriction was already in place in some hard-hit eastern regions of the country before Thursday's announcement and, according to the French Scientific Council, has led to infection rates slowing.
However some people have criticised the curfew, claiming that it will create larger groups of people, all trying to get home in time before it comes into force.
"It's a scramble so everyone can be home by 6pm," she said.
How are borders tightening?
All those arriving from outside the EU will now have to test negative for the virus within 72 hours before their travel into France, and then isolate for seven days and test negative again, Mr Castex said.
The border controls are partly to limit the extent to which new mutant strains of the virus spreading abroad can become dominant in France. There is particular concern over the more transmissible variant first detected in the UK – which the French health minister says now accounts for about 1-1.5% of new cases nationally.
"We must do everything to prevent this variant from spreading in France," Health Minister Olivier Veran told a Thursday news conference.
What has the government said?
The prime minister said Thursday that the situation in France is "under control compared to neighbouring countries but still fragile" with pressure on hospitals remaining high.
The curfew is seen as a way to avoid a full national lockdown, but Mr Castex said further restrictions would be imposed "without delay" if the situation deteriorated further.
It is hoped that an earlier curfew will put a stop to people gathering for drinks in the evenings, despite the government advising citizens to limit their social contacts to six people.
The country will aim to carry out at least one million Covid-19 tests per month in schools to help keep them open, but indoor sport activities have been banned again.
The government is also aiming to have more than one million people vaccinated against the virus by the end of January, amid criticism of a slow rollout by some. So far, 318,000 people have been vaccinated, according to the Health Ministry.
"The sooner we can vaccinate the most vulnerable, the sooner our hospitals will be spared the risk of being overwhelmed," Mr Castex said Thursday.
A graduated response
The earlier six o'clock curfew is important because it should help to "counter the apéro effect". These words are from Stanislas Guérini, a leading figure in President Macron's party.
What he means is that the two hours between six and eight o'clock have been identified as a weak spot in the government's anti-Covid strategy because that is when – even after all the warnings – people still can't resist getting together for post-work, pre-dinner aperitifs.
The six o'clock measure is already in force in a quarter of France, where apparently it is having an effect. Extending it nationwide represents a graduated response to a situation which the government says is worrying, but not alarming.
An average of 16,000 new cases a day is way more than the official target, but it is also a lot less than daily case numbers in the UK. Covid uptake in intensive care hospital beds is likewise on a "high plateau" – persistent but not out of control.
So the French government will continue with this weekly fine-tuning, hoping that – with a vaccination programme that is at last gathering speed – the skies will possibly clear by the summer.
Which other European nations have curfews?
France is one of several countries to currently enforce a curfew to curb the spread of the virus.
In Hungary, people must have a written note from their employers in order to leave their homes between 20:00 and 05:00.
Latvia has brought in a curfew every Friday, Saturday and Sunday until 25 January. People cannot go outside between 22:00 and 05:00 unless they have a certificate.
Belgium has different curfews depending on which region you are in. Flanders has a curfew from midnight until 05:00, while Brussels and Wallonia have asked residents to stay at home from 22:00 until 06:00.
In Italy, people must stay inside from 22:00 until 05:00.
Ministers in the Netherlands are said to be looking into a possible curfew there, according to local media.