Funding for Health Care Providers During the Pandemic: An Update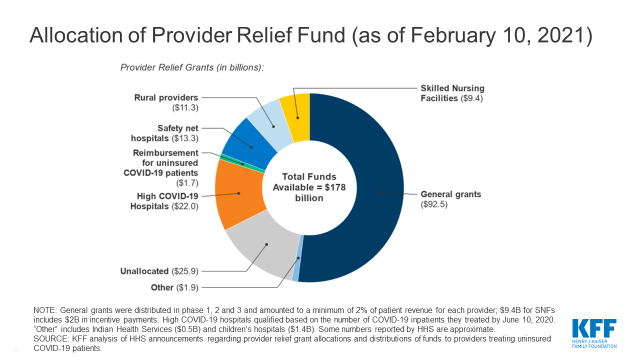 From the early days of the pandemic, Congress and the Administration adopted a number of policies to ease financial pressure on hospitals and other health care providers. The infusion of funds responded to concerns about the potential fiscal impact of revenue loss due to fewer admissions and other services, coupled with higher costs associated with COVID-19. Nearly one year later, this brief describes the main sources of federal funds for health care providers and how those funds have been allocated. It also reviews what is known about the economic impact of COVID-19 on providers.
The $178 billion provider relief fund originally created by the Coronavirus Aid, Relief, and Economic Security (CARES) Act has been a major source of financial assistance for hospitals and other health care providers. Through this fund, virtually all health care providers have now qualified for a general grant that amounted to at least 2% of their previous annual patient revenue. This approach used one formula to distribute funds across a diverse set of providers in a relatively short period of time, but it did favor some providers over others. As previous KFF analysis shows, hospitals with a larger share of revenue from privately insured patients received a disproportionately large share of these grants because private insurers tend to reimburse at higher rates than Medicare and Medicaid. Certain hospitals—safety net hospitals, children's hospitals or hospitals that treated a large number of COVID-19 patients early in the pandemic—later qualified for additional grants totaling $37 billion (Figure 1). Rural providers also qualified for $11.3 billion in extra grants. In addition, $9.4 billion was allocated for skilled nursing facilities, which account for a disproportionate share of COVID-19 deaths.
As of February 10, 2021, about $26 billion remains in the fund. The Consolidated Appropriations Act, 2021 requires that 85% of remaining funds be made available to providers to help cover revenue losses or additional expenses due to COVID-19. This same law also changed the rules regarding how the provider relief funds can be used, making it easier for providers to keep their grants even if they were more profitable in 2020 than in previous years.
In addition to the Provider Relief Fund, the federal government has provided financial support to health care providers in response to the pandemic through other programs and policies.
Medicare Accelerated and Advance Payment Programs: Health care providers that participate in traditional Medicare were eligible for loans through the Medicare Accelerated and Advance Payment Programs, which helps providers facing cash flow disruptions during an emergency. About 80% of the $100 billion in loans went to hospitals, which were distributed beginning in March 2020. Repayment for the loans was originally set to begin in August of 2020, but Congress delayed the start date for repayments to March 2021.
Paycheck Protection Program (PPP) and Other Loans: Many health care providers were eligible for some of the loan programs included in the CARES Act, including the PPP. Under the PPP for small businesses, loans are forgiven if employers do not lay off workers and meet other criteria. Health care providers received nearly $68 billion of the $520 billion in PPP loans that have been distributed. The CARES Act also appropriated $454 billion for loans to larger businesses—including hospitals and other large health care entities—but the eligibility criteria for those loans have limited their reach.
Increase in Medicare COVID-19 inpatient reimbursement: During the public health emergency, Medicare is increasing all inpatient reimbursement for COVID-19 patients by 20%. The Biden Administration has indicated the public health emergency will likely remain in place throughout 2021, extending the period for these higher payments.
Temporary lift of the sequester: The CARES Act temporarily lifted the 2% reduction in payments for most providers participating in the Medicare program that had been in place as part of the sequester. The sequester, established under the Budget Control Act of 2011, is scheduled to take effect again starting on April 2, 2021.
Together, these programs and policies were adopted early in the COVID-19 pandemic in response to the dramatic drop in health care consumption and revenues. Recent studies show that health care spending has since rebounded and overall health spending was up slightly in the third quarter of 2020, as compared to 2019. Year-to-date health services spending was down by 2.4% as of the third quarter of 2020 (relative to year-to-date spending as of third quarter in 2019). Changes in year-to-date spending varied by type of service, with physician office revenue down 4.0% and hospital revenue down 1.7%.
The federal financial assistance for providers has helped them cope with the financial impact of the pandemic. With year-to-date hospital revenue down by 1.7% by the third quarter of 2020, the CARES ACT grants, based on a minimum of 2% of patient revenue, would offset revenue losses for the average hospital. Reports in the press and earnings statements for hospitals suggest that some hospitals have done well and were profitable in 2020.  Analysis from the Medicare Payment Advisory Commission found that new federal funds made available to skilled nursing facilities and health professionals likely offset a majority of their financial losses caused by COVID-19.
When hospitals and other health care providers experienced steep drops in revenue early in the pandemic, Congress stepped in with an infusion of funds to bolster these providers. Health care spending has now largely stabilized, though health care providers may still be facing increased expenses to respond to the pandemic and remain a sympathetic constituency. However, many other parts of the economy continue to suffer, and COVID-19 is still negatively impacting the labor market. This suggests that it may be time to shift more resources to help individuals weather the COVID-19 pandemic, creating significant resource needs elsewhere as well.
This work was supported in part by Arnold Ventures. We value our funders. KFF maintains full editorial control over all of its policy analysis, polling, and journalism activities.