JAMB registers over 845,517 UTME candidates and 38,886 DE candidates, deadline remains May 15th
The Joint Admissions and Matriculations Board (JAMB), has revealed that about 845,517 candidates have been registered in the ongoing 2021 UTME registration while over 38,886 candidates have been registered for the Direct Entry as at May 9th, 2021.
This was contained in the weekly bulletin publication of the Joint Admissions and Matriculations Board (JAMB) via its official website.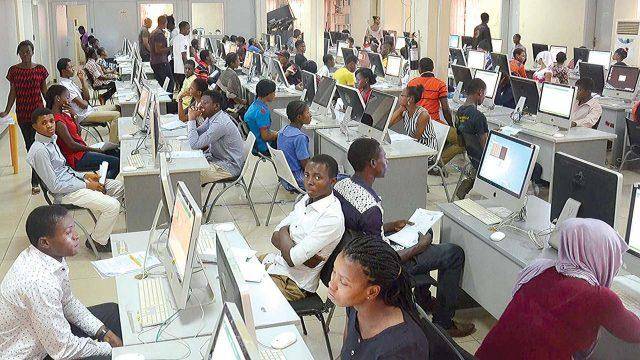 All prospective 2021 UTME and Direct Entry candidates are to note that the deadline for registration remains May 15th, 2021.
Have you downloaded the Myschool JAMB CBT Mobile App for android phones or the Myschool JAMB CBT Software for Computer systems? If not, you are short-changing yourself. Both contain over 60,000 JAMB past questions and answers to help you get adequately ready for the exam. So help yourself by downloading any of them now!
According to the bulletin, the exact number of registered candidates in each of the exam towns as at May 9th 2021 is as follows;
| | | | | |
| --- | --- | --- | --- | --- |
| S/No | EXAM TYPE | STATE | EXAMINATION TOWN | TOTAL REGISTERED |
| 1 | Computer-Based Testing | Abia | Aba | 9,542 |
| 2 | Computer-Based Testing | Abia | Umuahia/Umudike/Umunneochi | 4,384 |
| 3 | Computer-Based Testing | Adamawa | Mubi | 2,715 |
| 4 | Computer-Based Testing | Adamawa | Yola | 8,307 |
| 5 | Computer-Based Testing | Akwa-Ibom | Afaha Nsit/Eket/Onna | 1,670 |
| 6 | Computer-Based Testing | Akwa-Ibom | Ikot-Ekpene/Ikono | 3,351 |
| 7 | Computer-Based Testing | Akwa-Ibom | Uyo | 11,026 |
| 8 | Computer-Based Testing | Anambra | Awka-Etiti/Nnewi/Nnobi/Ihiala/Oba/Obosi | 3,449 |
| 9 | Computer-Based Testing | Anambra | Awka/Enugwu-Ukwu | 5,051 |
| 10 | Computer-Based Testing | Anambra | Nanka/Uga/Umunze | 1,208 |
| 11 | Computer-Based Testing | Anambra | Onitsha/Nkpor/Nsugbe | 7,771 |
| 12 | Computer-Based Testing | Bauchi | Azare/Gadau/Misau | 2,084 |
| 13 | Computer-Based Testing | Bauchi | Bauchi | 10,272 |
| 14 | Computer-Based Testing | Bayelsa | Yenagoa/Otuoke/Imiringi/Toru-Orua | 7,526 |
| 15 | Computer-Based Testing | Benue | Gboko/Katsina-Ala/Adikpo/Anyiin | 7,475 |
| 16 | Computer-Based Testing | Benue | Makurdi | 13,331 |
| 17 | Computer-Based Testing | Benue | Oju/Otukpo/Otukpa/Iga-Okpaya | 6,547 |
| 18 | Computer-Based Testing | Borno | Biu | 2,363 |
| 19 | Computer-Based Testing | Borno | Maiduguri | 10,176 |
| 20 | Computer-Based Testing | Cross-River | Calabar/Akpabuyo/ Akamkpa | 7,752 |
| 21 | Computer-Based Testing | Cross-River | Ogoja/Okuku/Obudu | 3,340 |
| 22 | Computer-Based Testing | Delta | Asaba/Ibusa | 6,669 |
| 23 | Computer-Based Testing | Delta | Effurun/Udu/Ovwian | 9,848 |
| 24 | Computer-Based Testing | Delta | Ogulagha | 153 |
| 25 | Computer-Based Testing | Delta | Ogwashi-Uku/Kwale/Issele-Uku | 1,725 |
| 26 | Computer-Based Testing | Delta | Ozoro/Oleh/Emevor/Ughelli/Agbarha-Otor/Kiagbodo | 4,575 |
| 27 | Computer-Based Testing | Delta | Warri/Sapele/Abraka | 7,308 |
| 28 | Computer-Based Testing | Ebonyi | Abakaliki/Ikwo | 5,809 |
| 29 | Computer-Based Testing | Ebonyi | Afikpo/Ishiagu | 825 |
| 30 | Computer-Based Testing | Edo | Auchi/Iyamho/Igarra | 4,579 |
| 31 | Computer-Based Testing | Edo | Benin/Okada/Usen | 18,366 |
| 32 | Computer-Based Testing | Edo | Ekpoma/Igueben/Uromi/Ubiaja | 3,610 |
| 33 | Computer-Based Testing | Ekiti | Ekiti | 11,279 |
| 34 | Computer-Based Testing | Enugu | Enugu/Agbani/Eha-Amufu/Oji-River | 9,865 |
| 35 | Computer-Based Testing | Enugu | Nsukka | 5,382 |
| 36 | Computer-Based Testing | FCT-Abuja | Abuja I(Municipal) | 18,325 |
| 37 | Computer-Based Testing | FCT-Abuja | Abuja Ii(Bwari/Dutse/Kubwa/Dei-Dei) | 12,420 |
| 38 | Computer-Based Testing | FCT-Abuja | Abuja Iii(Gwagwalada/Kuje) | 11,178 |
| 39 | Computer-Based Testing | FCT-Abuja | Jikwoyi/Karu/Kurudu/(Auta Balefi/Karu – Nasarawa State) | 7,649 |
| 40 | Computer-Based Testing | Gombe | Bajoga/Dukku | 417 |
| 41 | Computer-Based Testing | Gombe | Gombe/Deba/Kaltungo | 10,646 |
| 42 | Computer-Based Testing | Imo | Okigwe/Orlu | 2,447 |
| 43 | Computer-Based Testing | Imo | Owerri/Nekede/Mbaise | 11,005 |
| 44 | Computer-Based Testing | Jigawa | Dutse/Hadejia/Kafin Hausa/Gumel | 5,537 |
| 45 | Computer-Based Testing | Jigawa | Kazaure/Bichi/Danbatta (Kano State) | 602 |
| 46 | Computer-Based Testing | Kaduna | Kaduna | 35,453 |
| 47 | Computer-Based Testing | Kaduna | Kafanchan | 7,417 |
| 48 | Computer-Based Testing | Kaduna | Zaria | 15,339 |
| 49 | Computer-Based Testing | Kano | Bichi/Dambatta/Kazaure(Jigawa State) | 748 |
| 50 | Computer-Based Testing | Kano | Kano/Wudil | 32,295 |
| 51 | Computer-Based Testing | Katsina | Dutsinma | 1,208 |
| 52 | Computer-Based Testing | Katsina | Funtua/Malumfashi | 3,736 |
| | | | | |
| --- | --- | --- | --- | --- |
| S/No | EXAM TYPE | STATE | EXAMINATION TOWN | TOTAL REGISTERED |
| 53 | Computer-Based Testing | Katsina | Katsina/Daura | 7,198 |
| 54 | Computer-Based Testing | Kebbi | Birnin Kebbi/Argungu/Aliero/Jega | 4,766 |
| 55 | Computer-Based Testing | Kebbi | Zuru | 1,390 |
| 56 | Computer-Based Testing | Kogi | Ankpa/Anyigba/Idah | 9,763 |
| 57 | Computer-Based Testing | Kogi | Lokoja | 6,954 |
| 58 | Computer-Based Testing | Kogi | Okene/Kabba | 5,575 |
| 59 | Computer-Based Testing | Kwara | Aran-Orin/Oko/Omu-Aran | 952 |
| 60 | Computer-Based Testing | Kwara | Ilorin | 22,301 |
| 61 | Computer-Based Testing | Kwara | Offa | 2,201 |
| 62 | Computer-Based Testing | Lagos | Abule Egba/Agege/Ikeja | 25,129 |
| 63 | Computer-Based Testing | Lagos | Ajah/Epe | 6,659 |
| 64 | Computer-Based Testing | Lagos | Alimosho | 20,876 |
| 65 | Computer-Based Testing | Lagos | Badagry | 5,452 |
| 66 | Computer-Based Testing | Lagos | Festac/Ojo | 15,475 |
| 67 | Computer-Based Testing | Lagos | Ikorodu | 18,799 |
| 68 | Computer-Based Testing | Lagos | Ikoyi /Lagos Island | 3,676 |
| 69 | Computer-Based Testing | Lagos | Mainland | 26,473 |
| 70 | Computer-Based Testing | Nassarawa | Akwanga/Keffi | 9,552 |
| 71 | Computer-Based Testing | Nassarawa | Auta Balefi/Karu/(Jikwoyi/Karu/Kurudu-Fct) | 7,648 |
| 72 | Computer-Based Testing | Nassarawa | Lafia/Doma | 9,531 |
| 73 | Computer-Based Testing | Niger | Lapai/Bida/Mokwa | 3,997 |
| 74 | Computer-Based Testing | Niger | Madalla/Suleja | 6,868 |
| 75 | Computer-Based Testing | Niger | Minna/Zungeru/Kontagora | 9,192 |
| 76 | Computer-Based Testing | Ogun | Abeokuta/Ayetoro/Igbo-Ora(Oyo State) | 8,244 |
| 77 | Computer-Based Testing | Ogun | Ijebu/Ososa/Ago Iwoye | 5,927 |
| 78 | Computer-Based Testing | Ogun | Ota/Ifo/Ilaro/Owode/Igbesa/Ijoko | 18,137 |
| 79 | Computer-Based Testing | Ogun | Remo/Mowe/Ibafo | 8,316 |
| 80 | Computer-Based Testing | Ondo | Akungba/Ikare-Akoko/Owo | 4,539 |
| 81 | Computer-Based Testing | Ondo | Akure/Ilara-Mokin | 13,386 |
| 82 | Computer-Based Testing | Ondo | Ondo/Ore/Agadagba/Okitipupa/Ile-Oluji | 6,624 |
| 83 | Computer-Based Testing | Osun | Ede/Iwo | 3,277 |
| 84 | Computer-Based Testing | Osun | Ila-Orangun/Esa-Oke/Igbajo | 888 |
| 85 | Computer-Based Testing | Osun | Ile-Ife/Ikire | 7,010 |
| 86 | Computer-Based Testing | Osun | Ilesa/Ikeji -Arakeji | 2,340 |
| 87 | Computer-Based Testing | Osun | Osogbo/Erin-Osun | 7,923 |
| 88 | Computer-Based Testing | Oyo | Ibadan | 29,464 |
| 89 | Computer-Based Testing | Oyo | Igbo-Ora/Eruwa/Abeokuta/Ayetoro(Ogun State) | 243 |
| 90 | Computer-Based Testing | Oyo | Oyo | 4,702 |
| 91 | Computer-Based Testing | Oyo | Oyo North/Ogbomoso | 8,528 |
| 92 | Computer-Based Testing | Plateau | Barkin Ladi/Bokkos/Mangu/Gindiri | 2,641 |
| 93 | Computer-Based Testing | Plateau | Jos | 19,167 |
| 94 | Computer-Based Testing | Plateau | Pankshin/Langtang/Shendam | 5,670 |
| 95 | Computer-Based Testing | Rivers | Bonny | 532 |
| 96 | Computer-Based Testing | Rivers | Port Harcourt North | 8,029 |
| 97 | Computer-Based Testing | Rivers | Port Harcourt South | 28,659 |
| 98 | Computer-Based Testing | Sokoto | Sokoto/Tambuwal | 7,163 |
| 99 | Computer-Based Testing | Taraba | Gembu | 392 |
| 100 | Computer-Based Testing | Taraba | Jalingo/Takum/Wukari | 8,957 |
| 101 | Computer-Based Testing | Yobe | Damaturu/Potiskum | 4,437 |
| 102 | Computer-Based Testing | Yobe | Gashua/Nguru | 930 |
| 103 | Computer-Based Testing | Yobe | Geidam | 11 |
| 104 | Computer-Based Testing | Zamfara | Gusau/Maru/Talata Mafara/Kaura Namoda | 3,199 |
|   | TOTAL |   |   | 845,517 |