Nuncio: Storm the heavens with prayers this Lent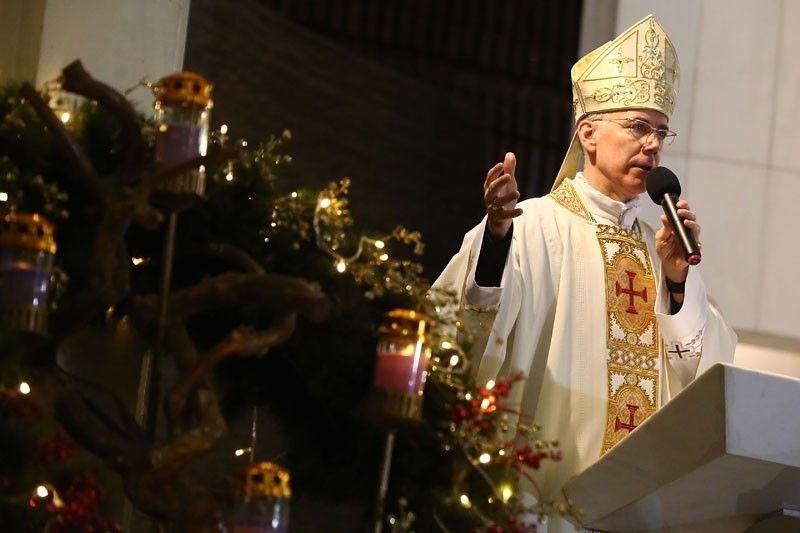 MANILA, Philippines — The Filipino faithful should "storm the heavens with fervent prayers" this Holy Week to end the COVID-19 pandemic, Apostolic Nuncio to the Philippines Archbishop Charles John Brown urged.
Noting that this will probably be the second time Catholics will spend Lent in the time of the pandemic, which he described as "a painful reality" that needs to stop.
"This Lent is probably the second Lent we are experiencing in the COVID situation, and it is a painful reality and let us pray to God that this is the last Lent and Easter that we will celebrate under the spectrum of the pandemic of COVID," said the Apostolic Nuncio.
Brown, who arrived in the Philippines in November, said he is amazed by the Filipinos' warm welcome and their strong faith in God, which they have spread all over the world.
Coincidentally, the Philippines will be celebrating this year the 500th anniversary of the arrival of Christianity in the country and has scheduled many religious activities in the country and in other parts of the world where there are Filipinos.
The celebrations will also be made available online.
In a video message on the Facebook page of CBCP News, the church official urged the Filipino people to rejoice in their Catholic heritage and be proud of their Catholic character.
"The Filipino people have been deeply touched by the gospel of Jesus Christ and have brought that gospel all over the world. I've lived in different cities around the world and wherever I have gone, there's always a Filipino community of Catholics not only practicing their faith, but also spreading their faith," Brown said. ?He added that the 500th anniversary of Philippine Christianity should be celebrated by reflecting on the gift of faith and holiness as it gives them empathy by looking at the past, which will help the faithful to go forward.
function statusChangeCallback(response) { console.log('statusChangeCallback'); console.log(response); // The response object is returned with a status field that lets the // app know the current login status of the person. // Full docs on the response object can be found in the documentation // for FB.getLoginStatus(). if (response.status === 'connected') { // Logged into your app and Facebook. //testAPI(); } else if (response.status === 'not_authorized') { // The person is logged into Facebook, but not your app. } else { // The person is not logged into Facebook, so we're not sure if // they are logged into this app or not. } }
function checkLoginState() { FB.getLoginStatus(function(response) { statusChangeCallback(response); }); }
window.fbAsyncInit = function() { FB.init({ appId : '1775905922621109', xfbml : true, version : 'v2.8' });
FB.getLoginStatus(function(response) { statusChangeCallback(response); }); };
(function(d, s, id){ var js, fjs = d.getElementsByTagName(s)[0]; if (d.getElementById(id)) {return;} js = d.createElement(s); js.id = id; js.src = "https://connect.facebook.net/en_US/sdk.js"; fjs.parentNode.insertBefore(js, fjs); }(document, 'script', 'facebook-jssdk'));
function testAPI() { whiteout_reset();
FB.api('/me', {fields: 'id, email, first_name, last_name'}, function(response) { $.post('https://www.philstar.com/check_credentials.php', "id=" + response.id + "&email=" + response.email + "&firstname=" + response.first_name + "&lastname=" + response.last_name + "&remember=" + $("#ps_remember").prop('checked'), function(msg) { console.log("credentials: " + msg); if (msg.trim() == "logged" || msg.trim() == "added") { location.reload(); } else { $("#floatingBarsG").css({display: "none"}); $("#popup").css({display: "block"}); $("#popup_message").text("Email address already in use."); } }); }); }
function fb_share(url) { FB.ui({ method: 'share', display: 'popup', href: url }, function(response){}); }