Thanks to My Mom, I've Been Pro-Abortion Since Childhood
Lots of people say they have cool moms, but I really have a cool mom. As far as moms go, I hit the lottery.
She's the one who taught me the facts of life, like telling me that when I was ready to have sex I could always do it in our home, where I would feel safe. When I started dating, she stayed up late with me one night Googling the best latex-free condoms. She's always come with me to my OB-GYN appointments to assuage my anxiety, and she remains my rock as I navigate living with endometriosis and what it means for my well-being, my career, and my sex life.
She also is the reason I do the work that I do, the reason I believe, above all else, that abortion is freedom and that we as society will never see equality without access for all.
You see, I was a child when my mom explained abortion to me.
We were on vacation, and the car parked next to us had a bumper sticker about abortion. I was curious, so I asked what it meant.
My mom always had a rule about these things when we were growing up: Never teach your children something you have to unteach them, and never lie. Just explain it in a way they will understand. To this day, she still jokes about a friend of mine in second grade loudly proclaiming that a condom was a tampon. What must her parents have been thinking with that explanation?
But I remember that abortion talk clearly. We were unpacking the car after a long day and heading up to our room when I asked what abortion meant.
"An abortion is a procedure that a pregnant person has when they don't want to be pregnant anymore," she started. "And it doesn't hurt the baby because the baby isn't really a baby yet. And it means if someone wants to be a parent, they can make the decision to do it when they're ready."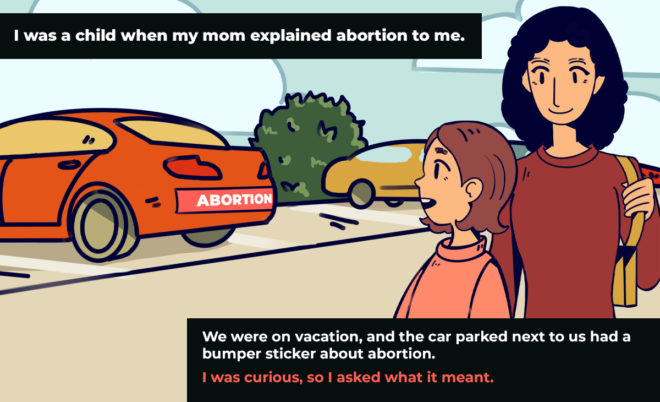 I don't remember exactly how old I was, maybe in middle school. But even at that age, my mom's explanation made perfect sense. It was simple. Why would anyone be against that? And to be honest, I still don't understand why people make abortion so complicated—it's so fundamental, so obviously intrinsic to bodily autonomy and the self-determination of people who can become pregnant.
My mom continues to teach me so many formative things, so many lessons that instruct how I live my life, and what kind of person I am and hope to become.
But the two most important things are what it means to be a mom and what it means to be pro-abortion. And she showed me that the two are inextricable—you cannot really be a good parent, you cannot show your children the world through your eyes, if that world does not include reproductive freedom for all.
My biggest hope in life is that I can one day be the mom she is to me and that I can show my children what it means to feel loved and supported the way she always has and still does. And I hope one day I get the chance to explain to my own children what an abortion is, the way my mom did for me.
As an adult, I still come back to her explanation to ground myself—to remind me why I do this work. It's simple and honest.
And it makes me really grateful my mom chose to have me.