West Bengal Elections: PM Narendra Modi says Mamata Banerjee 'doing politics with the dead', she alleges phone tap |
NEW DELHI: PM
Narendra Modi
on Saturday accused Bengal CM
Mamata Banerjee
of "doing politics with the dead", terming it "an old habit" of hers. Mamata responded by charging Modi with "intercepting" her phone calls and said he would be within the ambit of a
CID
probe she had ordered. "Don't you have any shame that you intercept a CM's phone? You should resign as PM," she said.
Their war of words came a day after BJP released an audio tape of a purported conversation between Mamata and
Trinamool
's Sitalkuchi candidate Partha Pratim Ray in the aftermath of the April 10
CISF
firing that killed four people.
"The tape reveals how Didi is asking a
TMC
leader to keep the bodies. She is heard saying the party will take out a rally with the bodies," Modi said at a rally in Asansol. "The tapes show how Didi is trying to benefit from the unfortunate deaths. How far will you go for vote bank?" Modi said.
At Katwa in East Burdwan, Mamata said the CID had been asked to track down the person/s responsible for intercepting her phone conversations, adding that even PM was within the ambit of the inquiry.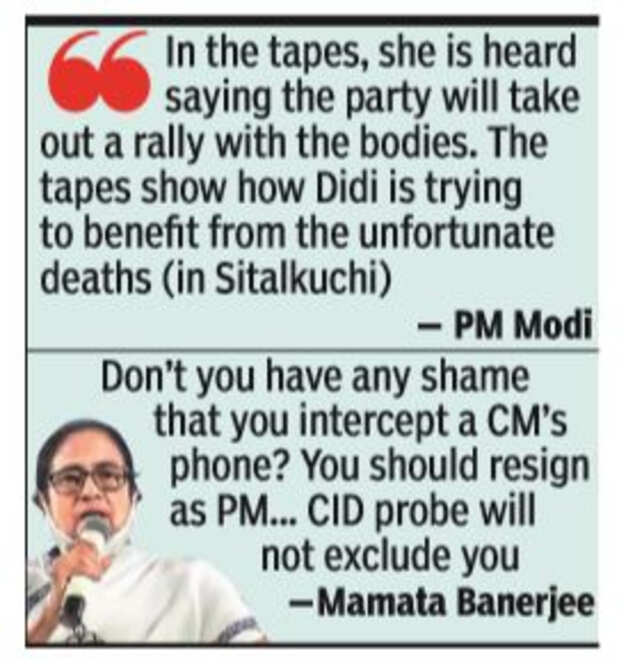 Modi's remarks at the Asansol rally were a direct "admission" of some CMs being under telephone surveillance, Mamata said. "The probe will not exclude you. You must respond (to this surveillance allegation) or resign… We may be politically opposed to you but we at least value the chair you occupy," she said, reminding the PM that the Supreme Court had upheld the right to privacy. "BJP's people don't have anything to speak about so they are tapping my conversation."
"I never said anything wrong (in the tape). They killed those children. They were barely 20-25. I had said keep the bodies… (and that) I would go the next day. How could I have gone that day? Could I have gone there on election day? I am not a Cooch Behar voter. So I said, keep the bodies. I had also told the media that I would go to Sitalkuchi the next day. But then, the Election Commission said I could not go there for 72 hours. What does it (the tape) prove? Does it prove anything at all?" she asked.
In Asansol, the PM had said that Mamata's strategy wouldn't work as the people of Bengal had already "formed a morcha" against her. "Trinamool has been broken into pieces after four phases of polls. Didi and bhatija (Mamata's nephew and MP Abhishek Banerjee) will be vanquished after eight phases. She is perturbed because her team is not being able to cast chhappa votes," he said.
"People have not been able to forget how their rights were taken away during the 2018 panchayat poll. Trinamool packed 20,000 panchayats with extortionists. And candidates who won even after all this had to take shelter outside the state. But that will not happen this time. That is why Didi is afraid. Chitto jetha bhoye akranto (Where the mind lives in fear)," Modi said, inverting Tagore's "Chitto jetha bhoy sunyo (Where the mind is without fear)".
The PM listed date-wise in South Dinajpur's Gangarampur how Mamata had been abusing him. "Tum sala khuni ka raja, the CM told me on March 26. This is an insult to the rich tradition, culture and language of Bengal. Do you approve of this kind of language against the PM?" he asked.
"Didi is arrogant. She looks down on others. She bunks the PM's meetings with CMs on corona. She does not attend Niti Ayog meetings. She is above the Constitution. She does not cooperate when central teams come here to help the state government. She slams central forces, puts pressure on the Election Commission and makes false charges against the armed forces."
Modi then accused the Trinamool government of "standing as a wall" between Bengal's poor and a Union government that wanted to transfer benefits to them. "But now confrontation will end, cooperation will start," he said.
The PM also pointed out how a Trinamool functionary had allegedly insulted the Matuas and Namasudras — disciples of Guruchand Thakur and Harichand Takur and followers of Yogendra Nath Mandal — and called them "beggars". "Didi did not say a word to that Trinamool colleague," he said.
Modi told the gathering how a BJP government in Bengal would start granting citizenship to refugees after May 2. "Why is Didi opposing citizenship to refugees? But do not worry, the BJP government in Bengal will grant you citizenship after May 2. People have formed a morcha against Didi. They will give you the 'former CM certificate'," he said.
Home minister Amit Shah, too, held election rallies in North Dinajpur's Chopra and North 24-Parganas' Amdanga.
CM Mamata took a dig at Modi for his allegedly "misplaced priorities", including campaigning in Bengal instead of leading the fight against a resurgent pandemic. "The country is witnessing an emergency because of rising Covid cases. And he is electioneering in Bengal," she said.