What My Endometriosis Taught Me About Miscarriage and Infertility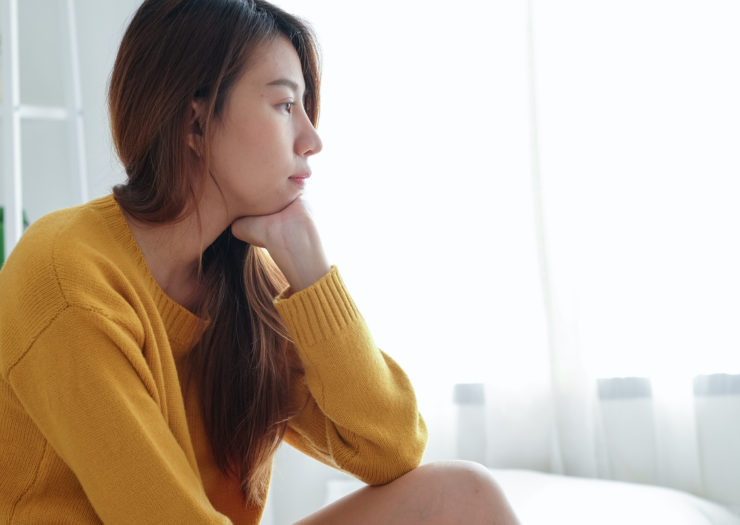 When I was diagnosed with endometriosis, there were a lot of things that scared me. I didn't know how I was going to survive the daily pain I was in. I was terrified of surgery. The night after a doctor first mentioned endometriosis to me, I was sitting in my living room with my mom, scrolling through Google looking for answers. Every list of symptoms was the same: pain, fatigue, and infertility. My mind froze on that last word.
"It's the thing I'm most scared of," I told my mom through sobs.
I've known my whole life I want to be a parent. But when you're diagnosed with endometriosis, you watch the possibility of having a baby become more tenuous and frayed with each surgery, each bout of pain and bleeding, each time a doctor tells you they can't promise anything. Both getting pregnant and staying pregnant can prove difficult for people with endometriosis, and it's not uncommon for people to receive their diagnosis while struggling to conceive or after losing a pregnancy—often more than one.
In the years since my diagnosis, I've surrounded myself with other people with endometriosis. I've watched people in my life begin the often agonizing process of in vitro fertilization; I've seen friends and fellow advocates lose pregnancies. And I experienced all this as someone who has been involved in reproductive rights advocacy for nearly a decade now.
Sex. Abortion. Parenthood. Power.
The latest news, delivered straight to your inbox.
I wish I could say this shared ground brought me comfort. But, in truth, there exists a palpable gulf between conversations about abortion and reproductive rights, and conversations about infertility and pregnancy loss—even though many people who can become pregnant experience both. Some of this stems from tension between a conversation largely centered on ending unwanted or unplanned pregnancies, and a conversation focused on becoming pregnant or losing wanted pregnancies. For example, while abortion advocates reject language that labels a fetus a baby or a human life (along with that language's harmful legal implications), some in the infertility and pregnancy loss community do feel a miscarriage involves loss of life.
It's not a coincidence that the criminalization of adverse pregnancy outcomes often comes down hardest on the most marginalized pregnant people, including people of color and people living in poverty.
But these issues are inextricably linked. Just ask the Georgia woman who, earlier this month, was nearly denied the medication she needed to manage a miscarriage because the pharmacist said, "That's wrong. That's an abortion drug. I'm not giving it to her." We've seen this connection with personhood laws, which would impact both access to abortion and IVF. Infertility care, just like abortion access, is awash with barriers that reek of eugenics—which make becoming pregnant incredibly fraught for marginalized folks living with infertility, as it is for those with disabilities or chronic illnesses.
This all holds true for the criminalization of adverse pregnancy outcomes. These same bigotries—which insinuate that some are more worthy of becoming parents than others—leave marginalized pregnant people experiencing a miscarriage vulnerable to prosecution.
As Rewire News Group recently reported, the growing prevalence of self-managed abortion, especially as the COVID-19 pandemic has increased the need for telehealth, has created more opportunity for criminalization.
It's not a coincidence that the criminalization of adverse pregnancy outcomes often comes down hardest on the most marginalized pregnant people, including people of color and people living in poverty. Purvi Patel is one such person. In 2015, Patel was convicted of feticide and felony child neglect as a result of a pregnancy loss she suffered in 2013, even though Indiana's feticide law was not intended to prosecute pregnant people.
And while conversations about criminalization of adverse pregnancy outcomes often center on self-managed abortion or induced miscarriages, it also impacts people experiencing the loss of wanted pregnancies, especially marginalized people whose pregnancy losses face heightened scrutiny from our criminal justice system.
Pregnant people, particularly those with substance use disorders, are already being charged for their miscarriages. In 2013, my colleague Imani Gandy reported on the cases of Hope Ankrom and Amanda Kimbrough, who were prosecuted after Alabama courts repurposed the state's child endangerment laws to include people who use controlled substances during their pregnancy, whether those substances were prescribed or not.
Too often, infertility and pregnancy loss are siphoned off from conversations about abortion rights. From a distance, these issues might seem separate: One is about struggling to become pregnant or losing a wanted pregnancy, while the other is about the right to terminate a pregnancy. But in reality, these are two sides of the same coin. They both involve affirming the full humanity of pregnant people and their right to make decisions about their body and their pregnancy. And they are both squarely reproductive justice issues.